Team Building Activities to Improve the Productivity of Staff
If you are thinking of motivating your staff and improve their productivity read the following lines carefully. Conducting team building activities on a regular interval make organizations more efficient and powerful. 
Advantages of Team Building Games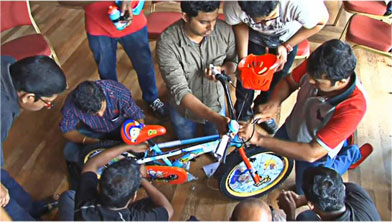 Strengthen the Bond Between the Staff
Increase the Productivity
Impart Knowledge and Skills
Make People More Purposeful
Foster Problem Solving
Improves Motivation & Confidence
Encourages Creativity
Increases Productivity: How many occasions have you sat at your workspace and zoned out into space simply because you were that unmotivated to do much of anything else? Team building exercises are a great excuse to get the staff up and from their chairs and get to know coworkers they may seldom get to see or talk to. When the game is done and wrapped up, your employees will have a renewed sense of enthusiasm and will power through the rest of their day.
Improves Motivation & Confidence: When we're working on a task that just seems to have no easy fix to, guess what happens to our motivation level? It plummets. However, when we can think about a past situation where things seemed doomed and see that through trial and error a solution was found, our confidence levels increase. Self-assurance levels in your employees that problems will work themselves out will reduce the lost time typically spent pulling their hair out.
Foster Problem Solving: Going off of the previous point, when a group of people is asked to complete a task, chances there has been a lot of suggestions on how to get it done. Every idea won't work, but from one idea another one may come to mind and BOOM! There's the way to solve the problem. This can easily be applied to their jobs as well and the next time they get stuck on something, they'll know that by asking for other suggestions they'll eventually find the answer.
Encourages Creativity: Getting up and out of normal work environments is sufficient to spark some innovative ideas that under normal working conditions couldn't have presented themselves. Depending on the environment that the team building game occurs in, the sky's the limit on creativity that can be fostered. Desk-bound workforce will appreciate the reason to get up and get their eyes off the computer screen, rather than having to create justifications to move around
Impart knowledge through fun activities: The attention span adult is limited typical lecture method training programs are not effective for adult audience. We build team building exercises that is able to covey the certain message that companies want to tell their staff. Games, discussion on learning from the games and conclusions make the informations easily understood and remembered life time.
Brows Team Building Videos we organized in Cochin
Brows photos of Team Building Activities  we organized in past.