Indian Mentalist Aladin From Cochin, Kerala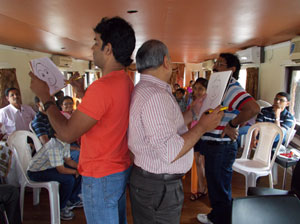 Are you a searching for an Indian Mentalist? As Mentalist Aladin has specialised in real-time mind-reading and hence people call him Mind-reader Aladin. Mentalist Alain is settled in Cochin city of Kerala state of India.
Aladin has over a decade experience as Mentalist.He has performed his Comedy Mentalism for thousands of people from around the world.
There is no much Mentalists in India. There is only one mentalist in Kerala, Aladin, India's No.1 Mentalist
What is mind reading?
It is believed that our thoughts are the safest thing in the world. Think about if someone hacks your mind exactly what will you feel? Are you going to lose your peace of mind when someone steals the secrets you kept in your mind for yourself.
The Things You See:
Thoughts will be exposed entertainingly, but Aladin will not expose any kind of private secrets. All demonstrations are created to be visual, light-hearted, and utilizes lots of viewer involvement
An expert mind reader can get people's thoughts by means of body gestures studying, handwriting analysis, induce people's choices utilizing NLP and other psychological techniques
A Mind reading show can be either entertaining or informative. It may also be a blend of the two.
Mind reading shows are
• Rare,
• Engaging and
• Viewers involvement.
Mind reading shows are well suited to mature audience.
If you are looking for a distinct entertainment for a corporate audience Aladin's mind reading show is the best choice
Comedy
The decades' experience of performing for corporate audiences enables Aladin to blend lots of humour into his show which cause the audience laughing from the beginning to end of the show.